Northumbrian Cambridge Association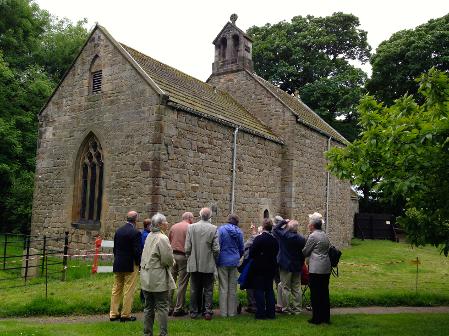 Northumbrian Cambridge Association members meet in most months for walks, talks, concerts, films, an annual dinner, an AGM with a lecture and supper, and freshers and festive events.
Find out more below from our newsletters, recent and past meetings, and AGM minutes.
NCA Newsletters
Our newsletters are published in January and July each year. The current newsletter (#15) and six previous ones (9-14) can be viewed by clicking on the images below.
Please note that older newsletters can be very large documents (the largest pdf file is 1 Gigabyte and will take time to download)
Past Meetings
Prospective NCA members are welcome to attend one of our meetings and bring guests. There is a record of previous events below.
Wednesday 31st March 2021
Online talk
The Work of the HALO Trust
Chris Loughran

Chris is Senior Policy & Advocacy Advisor for The Halo Trust and leads their global advocacy strategy as well as the organisation's policy change agenda. He is also responsible for leading political engagement in the UK. Chris is an accomplished spokesperson, with a decade of experience of high-level representation at the United Nations. He has over thirteen years of senior management and leadership experience in the UK and overseas, including three years as Country Director in Iraq.

The Halo Trust is an international humanitarian NGO working in 25 countries affected by conflict, instability, and humanitarian crises. HALO specialises in clearing landmines and addressing human suffering caused by small arms and ammunition.
The Halo Trust helps countries recover after conflict. Whilst clearing landmines, to save lives, is at the heart of what they do, they continue to work with communities that are too often forgotten once the fighting has ended.
Chris talked about the work of HALO and their recently established Action on Conflict campaign. He stressed the increased influence of the north east through the recenrly elected Conservative MPs in 'red wall' constituencies.
For more information on HALO's work, see: https://www.halotrust.org/
Online talk
Ruth Dodds and Tyneside in the 1920s, Margaret Bozic MBE
Margaret, a retired Chartered Surveyor, lives in Washington and is a former Board member of the Lit and Phil, and a current Trustee of the Tyne and Wear Buildings Preservation Trust. She gives regular talks to organisations including U3A, Rotary and WI groups. Before Covid, she led tours and walks in the region and hopes to do so again soon.
Ruth Dodds was born in 1890 and lived in Gateshead. She was a playwright, Quaker, volunteer and local politician. She joined the Labour Party after the First World War and was one of the first women to be elected to Gateshead Council in 1929. In 1939 she resigned from the Labour Party in protest at its support for war, and although she later rejoined she was not as politically active. She was made the first woman Freeman of Gateshead in 1965. Together with her sisters, Hope and Sylvia, she helped to found the Little Theatre in Gateshead. Ruth Dodds kept diaries, from which this interesting and inspiring talk took extracts and placed them in the context of Tyneside in the 1920s .
22 members and partners registered for an online quiz. Committee members prepared five questions each. Colin Dunningham's visual questions were outstanding. Sue Austin was the clear winner. Attendees enjoyed the evening and looked forward to futher online events.
90th Anniversary
Annual Dinner
Tyneside Cinema, Newcastle
Festive Afternoon Tea and Film with the Digital Lounge all to ourselves for the
classic 1952 drama,
The Holly and the Ivy.
Pre-Christmas
Freshers' Reunion
Pre-Concert Dinner and Concert
The Pitmen Poets
The Kennedys and the Gores
Professor Tony Badger
Bowes Museum,
Barnard Castle
Lit & Phil and
UTC (Stephenson Quarter), Newcastle
Tyneside Cinema,
Newcastle upon Tyne
Festive Afternoon Tea & Film
The Man Who Invented Christmas (2017)
County Hotel,
Newcastle upon Tyne
Sixties Gold Final Tour with
Pre-Concert Dinner
Stalin's Playlist
Professor Marina Frolova-Walker
Togston Hall East Lodge and Amble
Older Meetings before June 2018
The links below let you look at details and photographs of past meetings.
Photographs of these meetings (plus some before 2014) can be found via the drop down menus on Archive options (web: top right; mobile: last down arrow (˅) on top of page menu (≡). If you can't see a ≡ on your mobile, then you need to switch to the full site (usually via a link at the bottom of the page).
You can view previous AGM minutes using the buttons below