Northumbrian Cambridge Association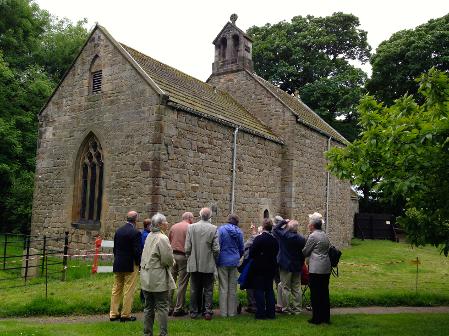 Northumbrian Cambridge Association members meet in most months for walks, talks, concerts, films, an annual dinner, an AGM with a lecture and supper, and freshers and festive events.
Find out more below from our newsletters, recent and past meetings, and AGM minutes.
NCA Newsletters
Our newsletters are published in January and July each year. The current newsletter (#15) and six previous ones (9-14) can be viewed by clicking on the images below.
Please note that older newsletters can be very large documents (the largest pdf file is 1 Gigabyte and will take time to download)
Past Meetings
Prospective NCA members are welcome to attend one of our meetings and bring guests. There is a record of previous events below. There is also a one page flier of all 2020 events - click here to view it, but please do note that it has not been updated to reflect cancellations due to Corona virus.
90th Anniversary
Annual Dinner
Tyneside Cinema, Newcastle
Festive Afternoon Tea and Film with the Digital Lounge all to ourselves for the
classic 1952 drama,
The Holly and the Ivy.
Pre-Christmas
Freshers' Reunion
Pre-Concert Dinner and Concert
The Pitmen Poets
The Kennedys and the Gores
Professor Tony Badger
Bowes Museum,
Barnard Castle
Lit & Phil and
UTC (Stephenson Quarter), Newcastle
Tyneside Cinema,
Newcastle upon Tyne
Festive Afternoon Tea & Film
The Man Who Invented Christmas (2017)
County Hotel,
Newcastle upon Tyne
Sixties Gold Final Tour with
Pre-Concert Dinner
Stalin's Playlist
Professor Marina Frolova-Walker
Togston Hall East Lodge and Amble
Older Meetings before June 2018
The links below let you look at details and photographs of past meetings.
Photographs of these meetings (plus some before 2014) can be found via the drop down menus on Archive options (web: top right; mobile: last down arrow (˅) on top of page menu (≡). If you can't see a ≡ on your mobile, then you need to switch to the full site (usually via a link at the bottom of the page).
You can view previous AGM minutes using the buttons below