Freshers' 2021 Welcome Party
On Monday 13 September 2021, we welcomed 39 undergraduate and postgraduate freshers and 7 guests to the Literary and Philosophical Society of Newcastle upon Tyne. The venue was ideal with students quickly registering before joining everyone in the main room. It was wonderful to hold this event after having to cancel last year's party due to COVID. There was a diverse group of freshers from across the northeast region (plus a few from outside who wanted to attend a face-to-event!).

NCA President Heather Cordell welcomed everyone to the meeting and introduced the other three committee members in attendance. Two current students kindly joined us to give short talks on their experiences at Cambridge. Ailsa Critten (Girton 2019, Music) and Sam Carling (Christ's 2020, Natural Sciences) had had very different first year experiences due to the COVID pandemic. Both provided helpful advice on settling in and making the most of their time at Cambridge. There is a Northern Society for Cambridge students now!
The venue was excellent and we plan to use it in future. It is close to the Central Station and we were able to book two large adjacent rooms (redecorated the previous week) with a lobby area for registrations. The evening was very convivial. Everyone enjoyed the event. Cambridge University Development and Alumni Relations (CUDAR) provided a 'Party in a Box' with small gifts to the freshers and student presenters, and Cambridge cups, napkins and table flags to 'make it real' before going up.
It was clear that the event had provided a good start to the freshers' time as Cambridge students. We look forward to meeting some of them at future Christmas reunions, and hopefully other future NCA events.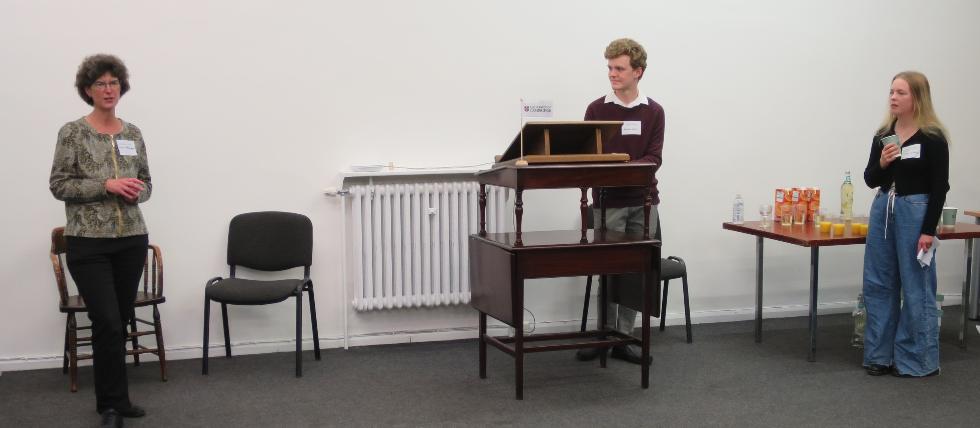 President Heather Cordell introduces Sam Carlin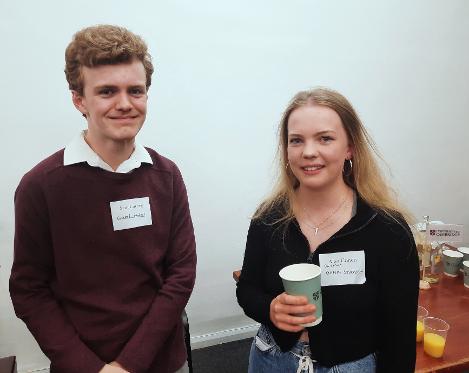 Sam Carling and Ailsa Critten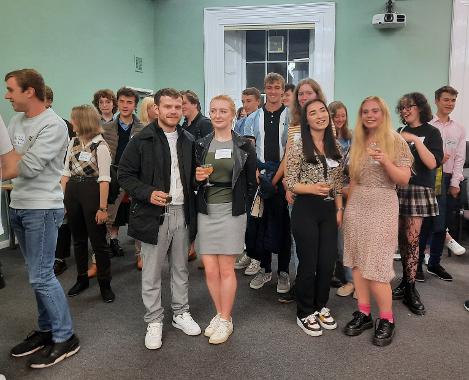 And a good time was had by all!
© Copyright Northumbrian Cambridge Association