Summer Tyne Cruise, June 16th 2019
Our summer outing this year was a River Tyne cruise and took place on Sunday, June 16, from 12 until 3 pm. 23 NCA members and guests attended, including Ian Roberts, Cambridge University Alumni Advisory Board member for Scotland, who came down to join us from Edinburgh for the day. The event was arranged by Peter & Liz Atkins. The boarding point for our River Escapes cruise on the Fortuna was at the Newcastle Quayside, where people started assembling and boarding from 11 am onwards. We secured an area for the NCA in the Upper Deck covered area, and the cruise began at 12.00, with people having lunch first from the onboard bar (sausage & bacon stotties, soup, sandwiches, tea, coffee, hot & cold drinks, beer, wine, etc. were all available).
After departure, we sailed under the Gateshead Millennium Bridge, which opened especially for the cruise, and we enjoyed the Newcastle and Gateshead riverscape with its impressive bridges before heading downriver as far as the river mouth. En route, we saw the now largely defunct shipyards of Tyneside, the International Ferry Terminals, the Port of Tyne, the Fish Quay at North Shields and beautiful views of the river mouth, including Tynemouth Castle and Priory, the memorial to Admiral Lord Collingwood and the beautiful sandy beaches of South Shields.
A commentary was given by the entertaining and knowledgeable John Glendinning. The cruise turned at the piers, where we moved aside for the Nordic Ace, a large vehicles carrier, and then returned to Newcastle's Quayside. It was nice to congregate in our covered area on the return journey, and to chat with one another.
Photographs were taken by the President, Colin Dunnighan and Pat Johnston.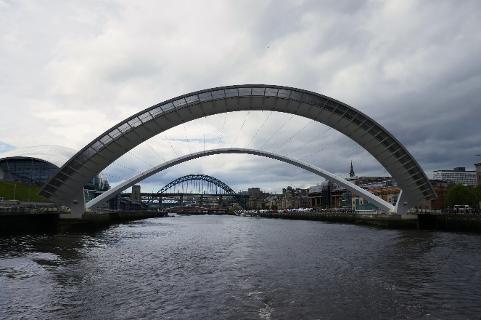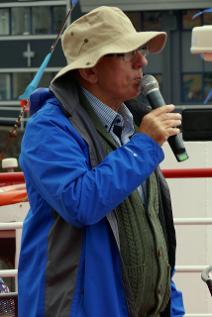 John Glendinning, River Escapes.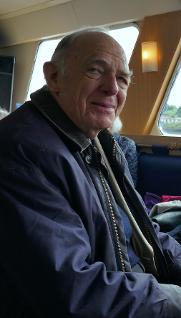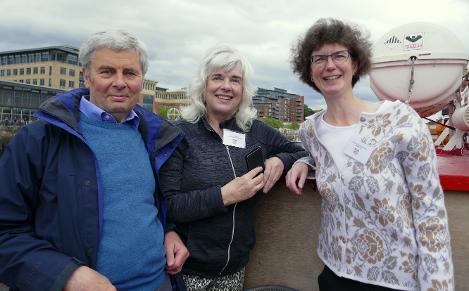 Charles, Judy and Heather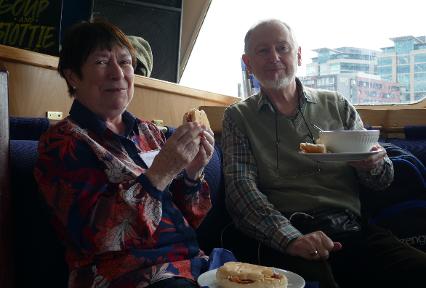 And there's more ...
Click on an image below to enlarge it. You'll see the CLOSE X bottom right that returns you to this page. Apt mouse hovering will reward you with a pop up tab upper left/right to move to the previous/next image.
© Copyright Northumbrian Cambridge Association